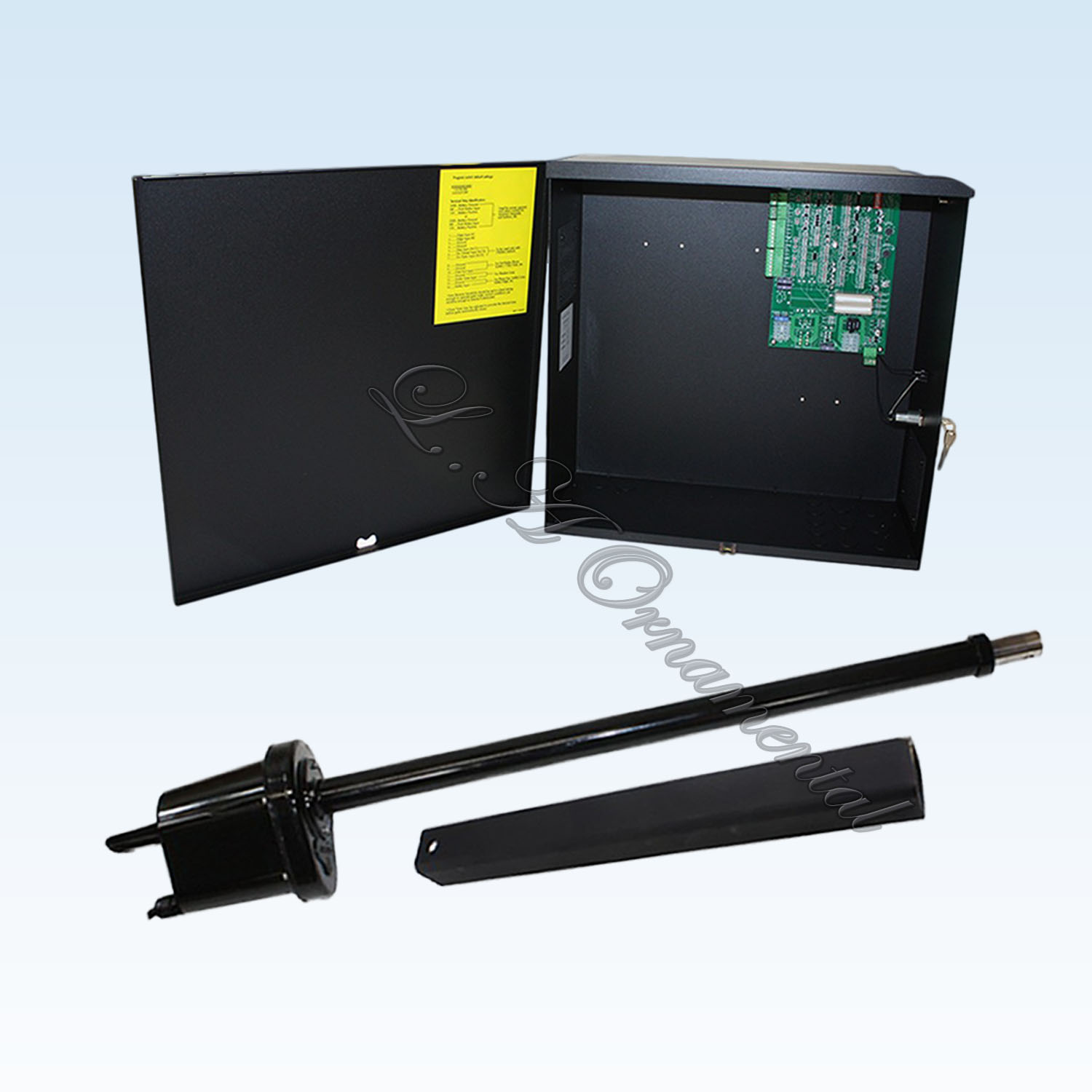 Apollo 1550 ETL Smart ETL Swing Gate Operator (Up to 16ft & 600lbs)Black.
Includes 816E & 835 -- $ 1,155.37
Apollo 1550 ETL Swing Gate Opener - Apollo 1550 ETL Swing Gate Opener
Apollo 1550 ETL swing gate opener Apollo offers its single actuator swing gate operator in two models, the 1500 and the 1550 ETL . Both models are easily installed on most existing or new swing gates of up to 16 feet in length and 600 pounds. The 1550 ETL model utilizes our advanced circuit board, which offers the popular soft start/soft stop feature, as well as additional inputs for a firebox, monitor lights, a lock, siren and strobe lights. Unlike other operators on the market, the 1550 ETL model actually learns and stores in memory both the current limit settings and the length of the actuator stoke, creating a default setting for future cycles – allowing for longer operator life and greater safety.
Apollo 1550ETL Swing Gate Opener
APPLICATIONS: Battery Operated, Solar or AC Charged Swing Gate Operator.
Recommended for Residential, Farm and Ranch, and Light Commercial applications. Recommended for gates up to 16 feet in length and 600 lbs. each.
SPECIAL APPLICATIONS: Can be used in push to open or pull to open applications. This permits the choice of having the actuator inside or outside the gate regardless of hinge left or right. Direct drive system attaches directly to the gate.
OPEN OR CLOSE CYCLE TIME: Each direction, 15 seconds.
BATTERY/ CONTROL PANEL BOX: 18" (46cm) x 18" (46cm) x 8" (20cm) Powder Coated Black, Weather resistant NEMA 3R.
ACTUATOR: Rust Proof linear, acme screw drive; self-lubricating gears. Supplied
with 8 ft. (2.4m) of cable. Externally adjustable limit switches.
SHIPPING INFORMATION: 2 boxes

Apollo 1550ETL Swing Gate Opener
GENERAL DESCRIPTION: Apollo swing and slide gate operators are ready for installation upon receipt. A professional installer is recommended. Some welding is required for proper installation.
BATTERY REQUIREMENT: 12 volt battery. Apollo recommends a maintenance-free, deep cycle marine battery – 105 amp./hour. (Not supplied) NOTE: In the event of electrical power outage, or significantly overcast days, a fully charged deep cycle marine battery (recommended) will provide up to 300 cycles or 30 days usage on a basic system before requiring a recharge.
CIRCUIT BOARD: All standard Apollo operators are shipped with the 635/835 circuit board. Features of this board include:
• Automatic, Adjustable Close Timer
• Adjustable Current Sensitivity for Automatic Safety Reverse
• Inputs for: Free Exit Loops, Safety Loops, Under Gate Loops, Safety
Edges, Free Exit Probes, Keypads, Telephone Entry Systems, Intercom
Systems, Pushbuttons, Locks, Radio, Receivers
• Fully Systems Capable
APOLLO 400 UPGRADE KIT:
For use with Apollo Model 1500 & 1550ETL Swing Gate Operators
Recommended for gates over 16' (5m) and up to 20' (6m).
The model 1500/1550ETL actuator is mounted between #400 arms. The
operator now attaches to the gate at 8 ft. (2.4m) for better gate control.
WEIGHT: 1 box, 27 lbs. (12.2 kg).
Note: The Per UL325-2016 all gate operators sold in the USA after February 2016 will be required to have a monitored safety photo cell to prevent accidental crushing or entrapment.
Compatible photo cell More Information here